Post by AdonisPluto on Jan 1, 2015 1:01:52 GMT -5
Thanks so much for this tutorials.
I seem to be having some problems here. I made this rug recolor before and its a 5x7 size
I resized it to 3x5 and When I checked ingame it appears ok when clicked on
But when I place in, it disappears.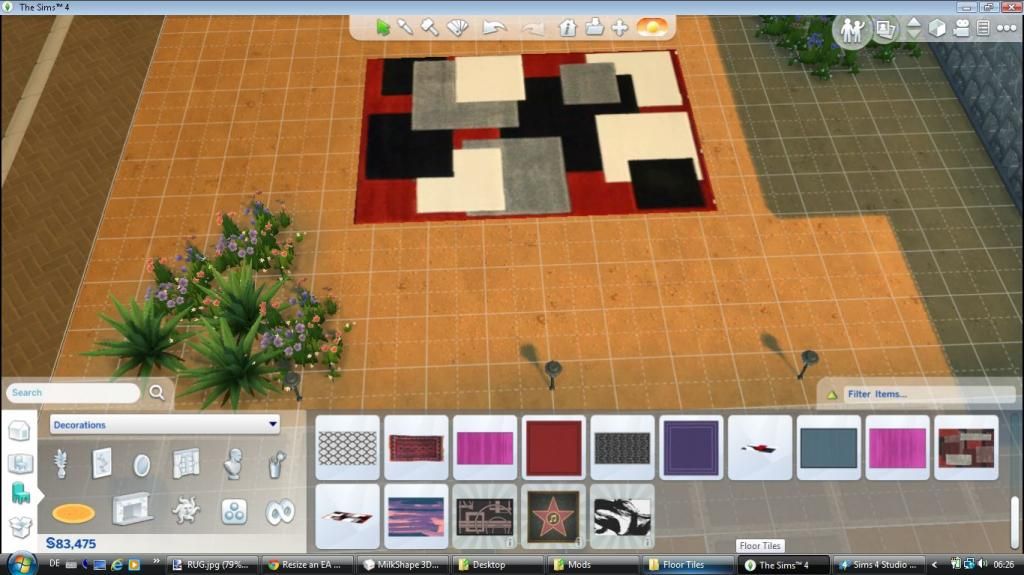 Thinking I made a mistake, I try to go over it to find where the fault is from, but everytime i reopen the file I keep gettimg this error message. So I usually start over again from the beginning. I have redone the package five times and in each occasion I get the same results
System.NullReferenceException: Object reference not set to an instance of an object.
at S4Studio.Data.IO.Package.DBPFPackage.FetchResource[T](DBPFResourcePointer index) in c:\workspace\thes4studio\TheS4Studio\S4Studio.Data\IO\Package\DBPFPackage.cs:line 224
at S4Studio.ViewModels.ObjectSwatchItem..ctor(IResourceHandle objd, ObjectCustomContentViewModel parent) in c:\workspace\thes4studio\TheS4Studio\S4Studio\ViewModels\Objects\ObjectSwatchItem.cs:line 40
at S4Studio.ViewModels.ObjectCustomContentViewModel.<.ctor>b__1(IResourceHandle x) in c:\workspace\thes4studio\TheS4Studio\S4Studio\ViewModels\Objects\ObjectCustomContentViewModel.cs:line 37
at System.Linq.Enumerable.WhereSelectEnumerableIterator`2.MoveNext()
at System.Collections.ObjectModel.ObservableCollection`1.CopyFrom(IEnumerable`1 collection)
at System.Collections.ObjectModel.ObservableCollection`1..ctor(IEnumerable`1 collection)
at S4Studio.ViewModels.ObjectCustomContentViewModel..ctor(IResourceProvider remoteSource, IResourceProvider localSource, DBPFPackage localPackage) in c:\workspace\thes4studio\TheS4Studio\S4Studio\ViewModels\Objects\ObjectCustomContentViewModel.cs:line 37
at S4Studio.MainWindow.<EditOBJItemPage_OnLoaded>b__11a() in c:\workspace\thes4studio\TheS4Studio\S4Studio\MainWindow.xaml.cs:line 2640
at System.Windows.Threading.ExceptionWrapper.InternalRealCall(Delegate callback, Object args, Int32 numArgs)
at MS.Internal.Threading.ExceptionFilterHelper.TryCatchWhen(Object source, Delegate method, Object args, Int32 numArgs, Delegate catchHandler)
Thanks